The Cosworth YB is one of the most recognisable engines that Ford has ever produced. Let's take a look at how this legendary motor came to be.
The story of the Ford Cosworth YB engine starts long before the arrival of the Sierra Cosworth in 1985, although that was the first time we saw it in all its road-going glory. In fact, the start of the tale can be traced right back to the end of the 1970s and early 1980s.
Despite dominating circuit racing and rallying throughout the 1970s, Ford's grip on motorsport was loosening, and fast. Even the mighty DFV Formula One engine was losing out to modern turbocharged units.
The misery was highlighted during a Ford VIP visit to the 1983 British Grand Prix at Silverstone, where a touring car battle supported the main event. Blue Oval bigwigs Stuart Turner and Walter Hayes were dismayed to witness a series of Capris being humiliated by V8 Rover SD1s, with only Richard Longman's class-winning Escort RS1600i to ease the pain.
Turner and Hayes agreed a plan of action, which coincided with a tour of Cosworth's premises in the company of American Blue Oval bosses Ed Blanch and Jim Capolongo. Yes, the aim of the visit was to check out the firm's forthcoming Formula One engine, but how could they ignore a Pinto/T88 bottom end equipped with an aluminium, 16-valve cylinder head, which accidentally-on-purpose found itself the centre of attention…
By the autumn of 1983, Cosworth had been asked to go ahead with a 2.0-litre engine, based on the SOHC Pinto/T88 cylinder block, but unlike the original naturally-aspirated conversion, this time it would include a turbo and need to produce 180bhp in road trim and more than 300bhp when race-tuned.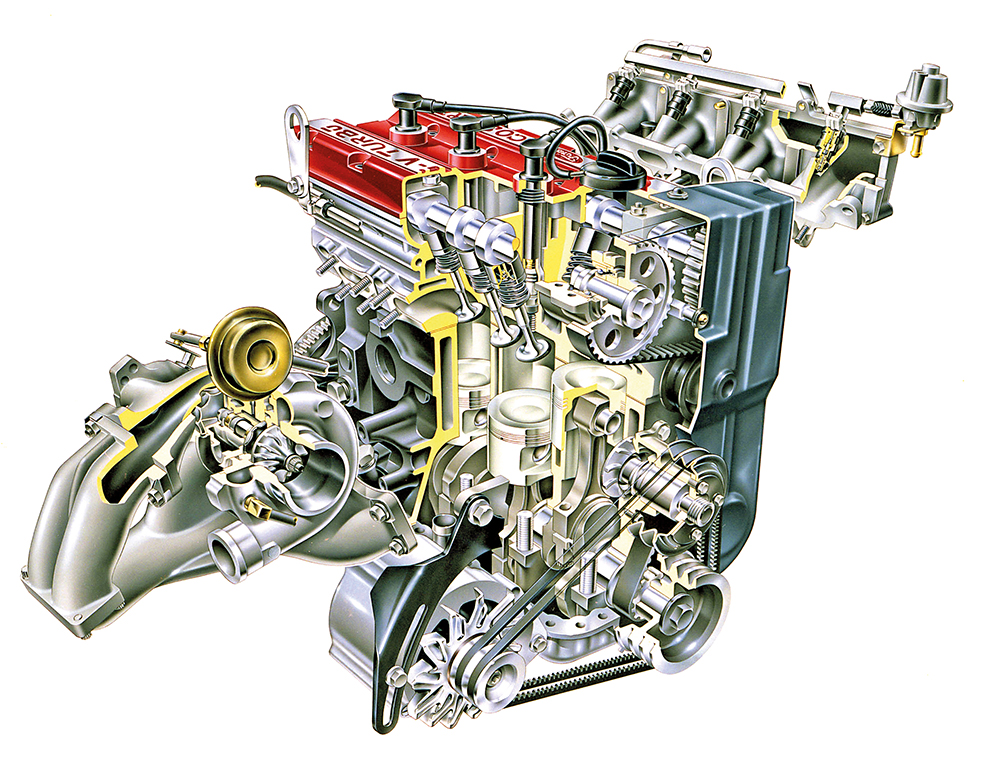 But when it was found that 200bhp-plus was easy to achieve for road cars, this was also agreed. Experience later proved that race engines could produce up to 350bhp with relative ease, but the big leap to 550bhp would not come until the RS500-style YBD power unit was developed in 1986.
Initially coded YAA (YB, the production version came later – see Ford Cosworth YB Engine Codes further down), the original Pinto/16-valve conversion had been designed by Mario Illien in 1983. It featured a very free-breathing cylinder head, a complex inlet manifold and long, tubular exhaust manifold, all optimised for tuning to a 300-to-400bhp race engine – with full-throttle breathing in mind, and not much thought to driveability or refinement.
By the time ex-Weslake/ex-Lotus engineer Paul Fricker joined Cosworth at the end of 1983, Illien had left. Ford had by then awarded Cosworth a contract to complete the engine, and also to build a facility to produce at least 15,000 units.
This meant a complete redesign of the engine to make it suitable for road use. The conversion from race to road engine was never easy, and Fricker was always under pressure from Cosworth and Ford.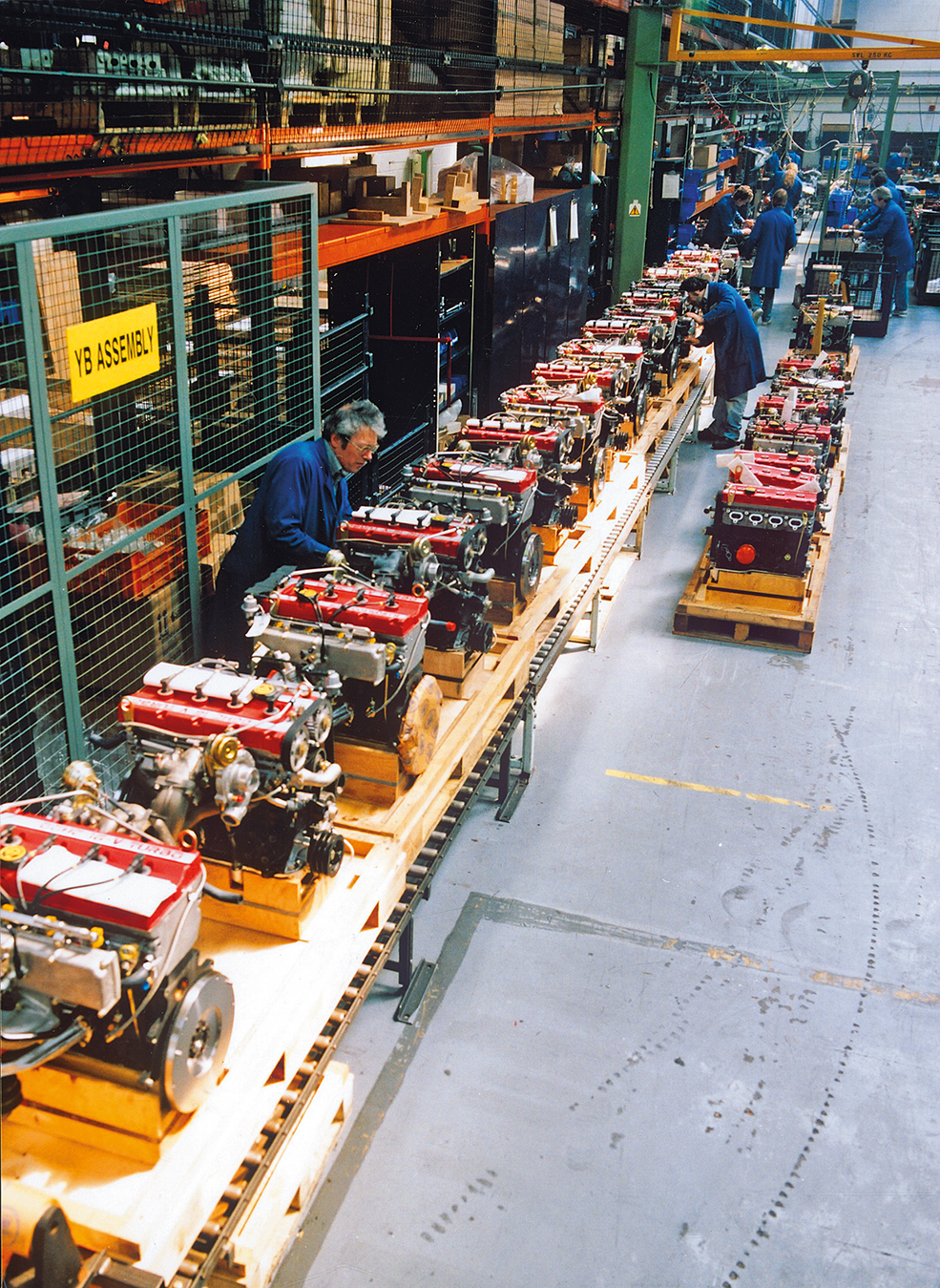 First there was the original contract of 15,000 engines to be considered: "At one time Ford talked of ending the project after the first 5000, but luckily they never did," said Fricker.
Then there were changes with the fuelling system. Originally that was to be produced by Bosch, but following good experiences in Formula One, Cosworth decided to go with Weber-Marelli of Italy. "There, we had three people who were working for just two clients – Ferrari and us," said Fricker.
And then a load more work went into re-specifying the turbo. Fricker continued, "We did 400-to-500 hours on the performance test beds at Cosworth. The first time we put one on the durability bed, it lasted just 35 minutes before it blew up."
The first YBA prototype started test-bed work in Northampton in June 1984, but the first engines and test cars didn't go to Weber-Marelli in Italy until September 1984. The YBA was completed, and signed-off, by mid-1985.
Compared with the basic Pinto, almost everything was changed, except for the cylinder block itself: new cylinder head and valve gear, new steel crankshaft, rods, pistons, and sump. The use of hydraulic valve lifters was a given, and no subsequent engine tuner appears to have suffered from not being able to use conventional lifters.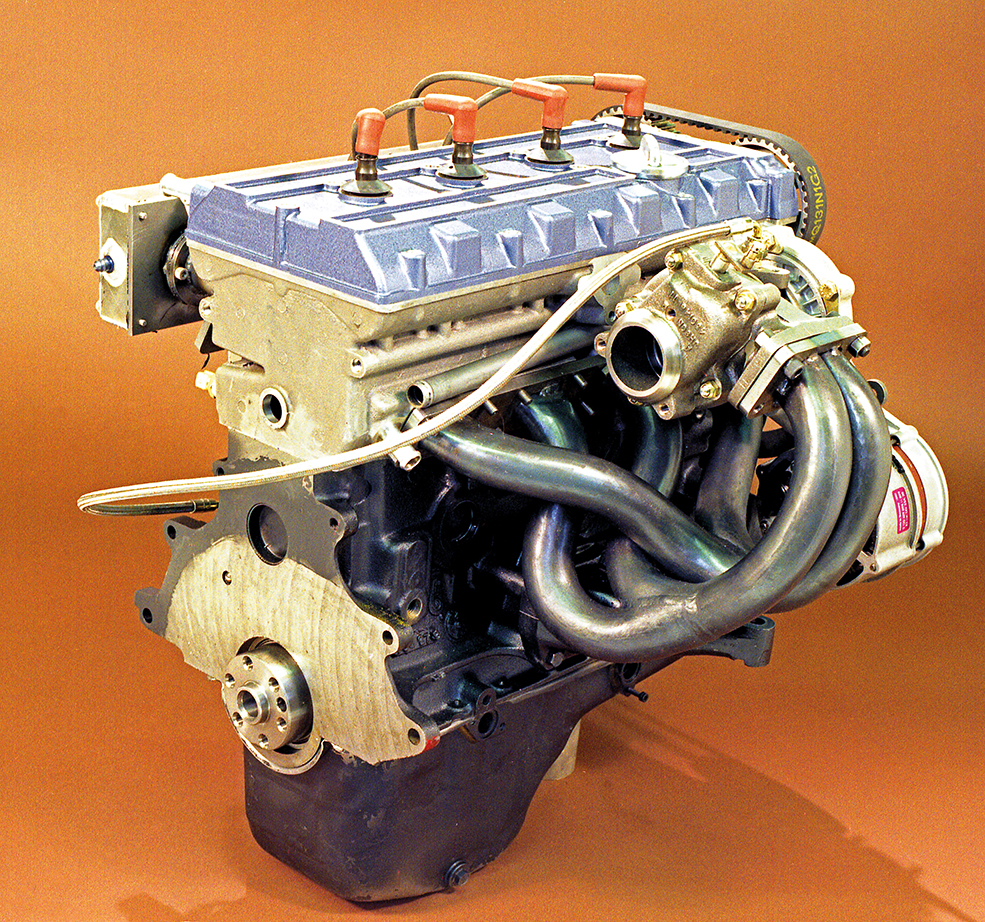 "They did weigh more," Fricker admits, "and there was always a small amount of air in the oil. We ended up changing the design so they couldn't deflate overnight. On the original engine, if you had a hot engine, then left it parked for a week, the lifters would go down."
Cosworth built a new factory at Wellingborough; series production started in 1985 and ended in 1995. Along the way, the YBB evolved. For the Nineties, the big change was to redevelop the engine for use in the EsCos, originally as YBT and (from 1994) as YBP. The YBT engine might have looked little changed, but had advanced in various ways, notably with a hybrid T03/T04B Garrett turbocharger. It was really too big for road cars, but Ford Motorsport needed large enough unit to be homologated to make the Escort Cosworth the rally winner it became.
YBT cam covers were painted blue instead of the Sierra Cosworth 4×4's green. Paul Fricker explained: "We needed yet another colour, and we thought it looked nice. We didn't consult Ford Design until it was too late to get into an artistic argument."
With 227bhp at 6250rpm, the YBT engine was extremely flexible. Naturally it ran on unleaded fuel, and an exhaust catalyst was standard. Finally, in 1994, the YBT gave way to the YBP, this one having a smaller T25 turbo, Ford's EEC-IV electronic engine management, and a restyled camshaft cover. It was more driveable, just as potent, and visually smarter than ever.
In an 11-year life at Wellingborough, something like 39,000 YB-based engines were made, and it's still very much the stalwart of the fast Ford scene to this day.
Click here for more Classic Ford features